WHY PEOPLE ARE LOVING KOJI WHITE
Join over 800,000 satisfied customers who trust Koji White for their skincare needs.
Cruelty Free

We do not test our products on animals and provide an ethical solution

Dermatologist-Tested

We ensure that the formulations are balanced, effective, gentle, and suitable for all skin types

Paraben Free

Parabens are a group of synthetic chemicals mainly used as preservatives in health and beauty products
"BRIGHTEN YOUR SKIN, BRIGHTEN YOUR DAY"
Enjoy Bright & Glowing Skin Naturally
Koji White product is designed to help individuals with skin pigmentation and darkening issues. The result is a remarkable skin brightening effect. We use only the finest ingredients to complement Kojic Acid and create an amazing outcome.
REAL RESULTS REAL CUSTOMERS
FREQUENTLY ASKED QUESTIONS
Collapsible content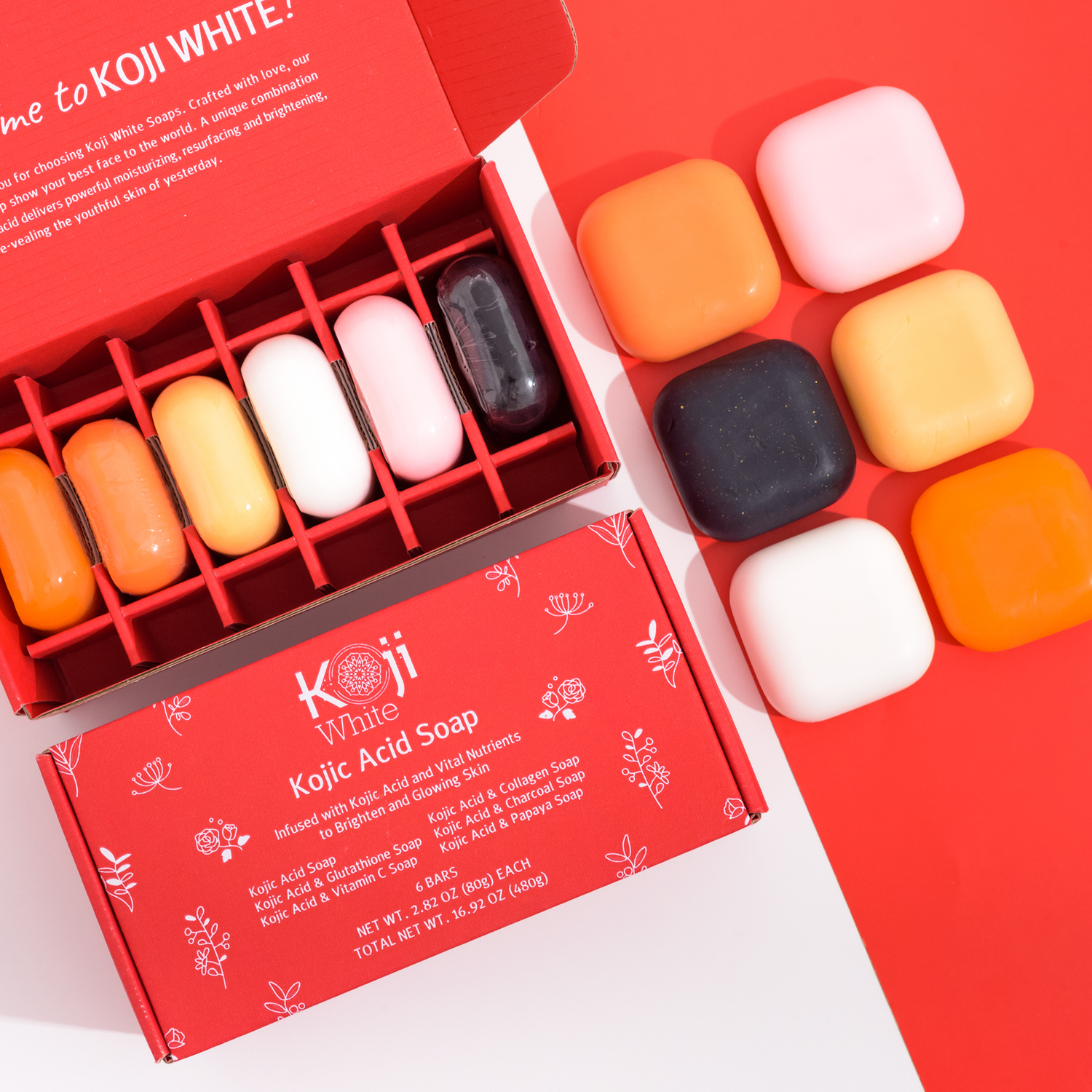 Are There Any Side Effects?

Koji White is recommended to correct undesirable skin pigmentation. Kojic acid is naturally effective and safe for most skin types. Allergies are uncommon, but everybody's skin is different. If you have particularly sensitive skin or suffer from skin allergies, or if you have any concerns about using kojic acid, it is advisable to speak with a dermatologist before use. Please note that some individuals may experience mild redness or skin sensitivity during the first few days of use while skin adjusts to the product. If you experience additional skin sensitivity or allergic reaction, it is advisable to discontinue use immediately. While using this product, skin may be more sensitive to sunlight. Protect skin with sunscreen to prevent sunburn and skin darkening for best results.
Does Koji White product contain hydroquinone or harmful ingredients?

Koji White Soap doesn't contain hydroquinone, mercury, or steroids. Health care is important to everyone.
Does Koji White soap have certificate Hypoallergenic & Dermatologist Tested?

Koji White Soap passed Human Repeated Insult Patch Test under USA standard.
How long does it take to see results?

Kojic acid is well-known for its ability to lighten and brighten skin, however every skin condition is unique and individual results may vary. Most individuals notice improvement within the first 2-4 weeks of use, with full results expected in about 2-3 months. This is a guideline only, as all skin types are different. Results are not guaranteed, Individual results may vary.
How Does Koji Acid Brighten Skin?

Koji White products are all made using real kojic acid, a powerful skin-whitening agent that is naturally produced during the fermentation process of malting rice. Kojic acid works by reducing skin's ability to produce tyrosine, an amino acid that controls melanin production. With less tyrosine, skin becomes brighter and more even over time.